The Indian Navy has commissioned submarine Vagir, the fifth Submarine of Project 75 Kalvar Class. Four of the Kalvari class of submarines have already been commissioned into the Indian Navy. The newly commissioned submarine begins her maiden sea sortie on Feb 22.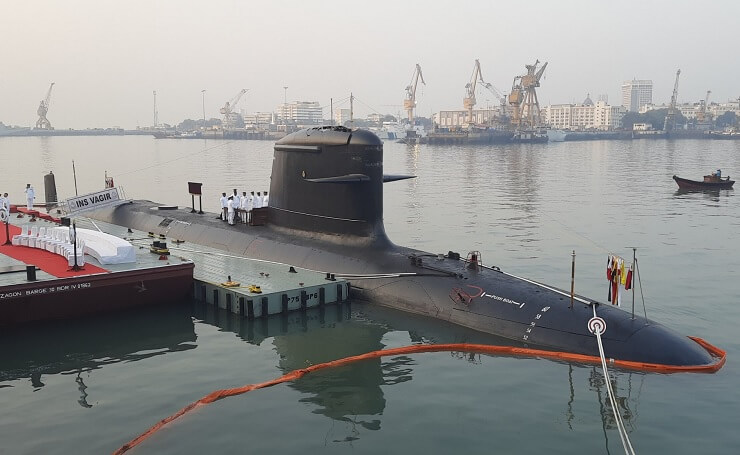 The newly commissioned submarine INS Vagir entered service at the naval dockyard in Mumbai in presence of Chief of the Naval Staff (CNS) Admiral R Hari Kumar. The submarine is also called the 'Sand Shark', it "represents 'Stealth and Fearlessness', two qualities synonymous with the ethos of a submariner, as per the official report.
The name Vagir comes from the Sand Fish, a deadly deep sea predator of the Indian Ocean.
INS Vagir is built by the Mazagon Dock Shipbuilders with the help of the technology transfer from France's Naval Group. According to a report by the defence ministry, the submarine has gone through several acceptance checks and sea trials before it is commissioned into the Indian Navy.
The Kalbvari class submarine is capable of undertaking diverse missions including anti-surface warfare, anti-submarine warfare, mine laying, conducting Intelligence, surveillance and reconnaissance (ISR) missions.
The Vagir submarine is built under Project 75, where with Vagir 5 more indigenous submarines of Scorpene design are constructed.
The fifth Submarine of Project 75 #Kalvari class, #Vagir all set to be commissioned shortly into the #IndianNavy in the presence of Adm R Hari Kumar #CNS at naval dockyard #Mumbai.#AatmanirbhartaInDefence@DefenceMinIndia @AjaybhattBJP4UK@indiannavy @IN_WNC pic.twitter.com/VShjdMM6ET

— PRO Defence Mumbai (@DefPROMumbai) January 23, 2023
Vagir has a glorious past as the submarine which was commissioned in November 1973. Later it was decommissioned in January 2001. On November 12, 2020 the submarine launched with its new avatar and named as 'Vagir' has the distinction of having the lowest build time among all indigenously manufactured submarines till date.
Defence Admiral R Hari Kumar said Vagir is a lethal platform equipped with some of the best sensors in the world; its weapon package include wire guided torpedoes and missiles to tackle large enemy fleets. The submarine is also capable of launching marine commandos for special operations.